Sino-Ocean Group Holding Limited
Sino-Ocean is committed to being a healthy company. We aspire to become the pioneer of "building health" in China.
In 1993
The company was established
03377

.HK
Listed on the Main Board at HKEX in 2007
600

+
Developing and operating projects
TOP 500
Named a Fortune TOP 500 company in China for 13 consecutive years
(Data as of July, 2022)
Sino-Ocean Group Holding Limited was founded in 1993 and has been listed on the Main Board of The Stock Exchange of Hong Kong Limited since 28 September 2007 (Stock Code: 03377.HK), with China Life Insurance Company Limited and Dajia Life Insurance Company Limited as major shareholders. Sino-Ocean Group has been included as a constituent of Hang Seng Composite Index (HSCI), Hang Seng Composite Industry Index — Properties and Construction, Hang Seng Stock Connect Hong Kong Index, Hang Seng SCHK High Dividend Low Volatility Index and Hang Seng Corporate Sustainability Benchmark Index.【 Shareholding Structure 】
With a strategic vision of becoming the "Creator of Building Health and Social Value", Sino-Ocean Group is committed to becoming a pragmatic comprehensive corporation focusing on investment and development while exploring related diversified new businesses. Our core businesses include development of residential property, investment property development and operation, property services and whole-industrial chain construction services, along with synergic businesses in real estate financing, senior living service, logistics property and internet data center, etc.
To date, Sino-Ocean Group has developed and operated over 600 projects in more than 80 fast-growing cities in China. In residential development, Sino-Ocean Group practices its core philosophy of "Building Health" and has developed three main product series, namely Ocean Epoch, Grand Harmony and Landscape. In investment property development and operation, Sino-Ocean Group has successfully crafted a number of urban landmarks including Sino-Ocean Taikoo Li (Chengdu), INDIGO (Beijing), Ocean Plaza (Beijing) and China Life Financial Center (Beijing). In property services, Sino-Ocean Service has been listed on the Main Board of the Stock Exchange of Hong Kong Limited since late 2020 (Stock Code: 06677. HK) and ranked among China's Top 100 Property Service Providers. In addition, Sino-Ocean Group has established various specialized design-build subsidiaries including Sino-Ocean Construction, Sino-Ocean Decor, Sino-Ocean Ecology and Sino-Ocean Mechatronics to provide high-quality, whole-chain services for the architecture and construction industry.
In terms of the synergic businesses, Sino-Ocean Capital, the dedicated alternative asset management firm, has exceeded RMB 130 billion in assets under management, while Senior Living L'Amore, the international brand for premium senior health care services under the Group, has taken root in Beijing, Shanghai, Guangzhou, Tianjin and beyond.
Since its founding, Sino-Ocean Group has been proactively fulfilling its corporate social responsibilities and has established the Sino-Ocean Charity Foundation in 2008, through which over RMB 500 million has been provided in support of social welfare initiatives, benefiting more than 150 cities across the nation. Releasing its first Social Responsibility Report as early as in 2010 and an independent Annual ESG Report in 2016, Sino-Ocean Group has been further awarded an MSCI ESG rating of A in 2021 and a GRESB five-star rating for global real estate sustainabiliy - both the highest among Mainland China real estate counterparts - and is continuously leading the industry in sustainable development management.
A well-recognized and reputed brand of great influence for its consistency in high-quality product and professional service offerings, Sino-Ocean is acknowledged as a Well-Known Trademark by the Trademark Office of the State Administration for Industry and Commerce in 2013, and awarded "Top 10 Chinese Real Estate Enterprises with Outstanding Brand Value" for a number of times.
Brands of the Group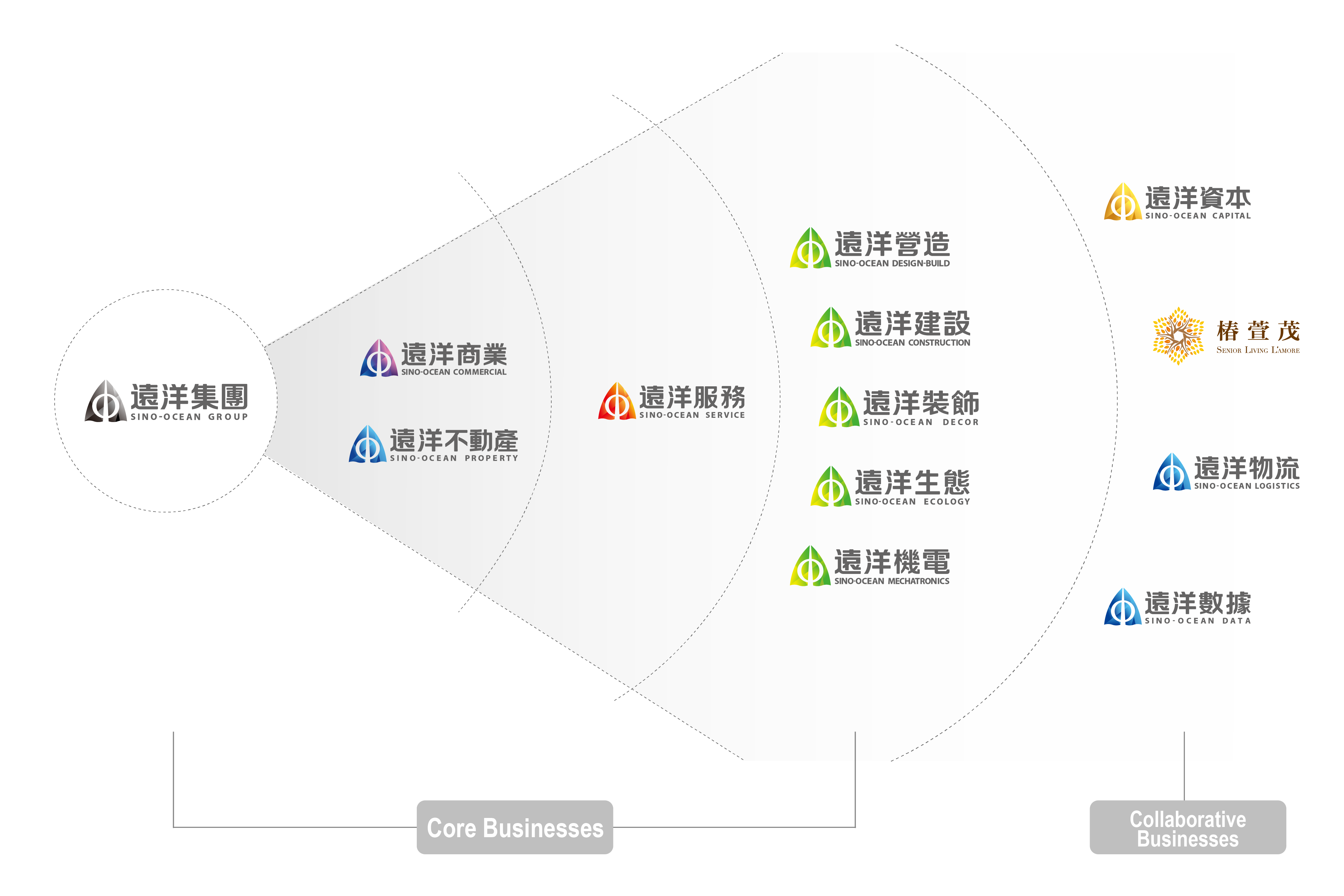 Major Awards and Recognitions


For the 12th Consecutive Year
China's Fortune TOP 500 Companies
In 2013 recognized as a
"Well-Known Trademark in China"
2022
14th in the Top 500
Property Developers-Overall Strength Ranking
2022
TOP10
financing capacity of China's real estate enterprises
2021
China Real Estate Company Brand Value
Top 10
2021
China Real Estate Best Employer
Enterprises with Best Practices for Urban Renewal, 2021
TOP 10
Robust Real Estate Developers in China, 2021
TOP 10
2021
Real Estate MVP of the Year
/
Gallery
Corporate Culture
Responsibility · Sharing · Health
Responsibility · Responsible
Sharing · Solidarity
Health · Steady and Sustainable
Social Responsibility
Adhere to the concept of sustainable development and strive to contribute to China's urban development, social progress and people's happiness in the new era.
Corporate Responsibility
Undertake the mission of corporate survival and development to provide customers with high-quality products and services and create greater value for investors.
Employee Responsibility
Advocate the establishment of a sense of ownership and the formation of collaborative thinking; excavate the maximum potential value to realize the common growth of employees and the company.
Sharing and Development
Break down external barriers to seek for collaborative development with partners and stakeholders in various professions and fields, forming a synergy in business development, and sharing corporate development results.
Sharing and Collaboration
Promote an open and transparent corporate environment internally so as to achieve professional and team collaboration, realizing the sharing of information and resources, and promoting the aggregation and cohesion of enterprise development.
Healthy Product
Strive to provide consumers and users with more healthy products and services, improve the standard of healthy living, and contribute to build a healthy China.
Healthy Company
Adhere to the development strategy, hold fast to the bottom line of operation management, avoid risks in corporate development, and strive to achieve long-term development that is healthy and steady.
Healthy Team
Strive to build a staff team that is optimistic, positive and healthy, and create a simple, direct, fair, impartial and healthy team atmosphere.